ISP / Corporate email systems often contain a mixture of new and legacy components distributed throughout the enterprise, including interconnected message transfer agents (MTAs), groupware servers and various products of hardware and email server software.
XgenPlus Switch has been designed to seamlessly fit in with all kind of email servers and network environments starting from few domains distributed on different servers to thousands of domains distributed to various physical locations / servers.
XgenPlus Switch is built on the Xgen Plus, and provides configuration, load balancing , management, reporting and security features that address the critical needs of enterprise email networks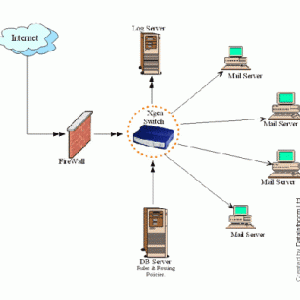 The XgenPlus Switch ensures efficient message routing within the organization. The advantage of using a XgenPlus Switch is that it integrates two or more departmental mail systems from different vendors, relieving departmental email systems from the complex task of managing address resolution.
Another benefit of using XgenPlus Switch is that they enable group — or department-specific filtering and policy management enforcement.
Xgen plus also increase the availability of the email system as a whole by providing redundant capacity for handling mail. They improve the reliability of departmental email systems by queuing spikes in volume that might overwhelm a groupware / email server. In addition, XgenPlus SWITCH that runs Xgen Plus MTA can help to balance the email traffic load, further enhancing system performance.
Features
Xgen Switch: Enterprise e-mail routing and delivery:
XgenPlus Switch allows IT administrators to focus on tasks other than managing the email system, which can be time consuming and complex. It provides a "web based" administration console that centralizes critical system management tasks, improves security and control and eliminates duplicated efforts among several departments.
Functionality includes overseeing mail queues, aggregating traffic reports, automating email traffic alert notifications, monitoring specific health attributes and providing statistical reports for each email transaction of rejection / acceptance. In addition, it allows a single administrator to manage email traffic for several domains.
Reliability
Based on robust MTA of XGEN Plus
Supports redundant, high-availability configurations
Designed to ensure complete recoverability of message traffic due to power failures and other service disruptions
Scalability and Performance
Exceptional throughput performance
Scales to millions of messages per hour
Support thousands of concurrent domains
Ease of Management
Browser-based management interface
Centralized management of multiple servers
Delegated configuration and administration for multiple administrators Testing tools
Reporting
Daily and on-demand reporting
MTA monitoring with alerts
Available Customized reporting for advance requirements
Benefits
Better security
Prevent address harvesting attacks.
Protect against Denial of Service attacks to ensure stability of your messaging network.
Effective use of network capacity
Optimize message flow into and out of your network.
Reduce bandwidth and filtering overhead by rejecting unwanted messages before they enter your network.
Total control of network traffic
Limit the number of connections based on a wide range of criteria.
Throttle message flow based on connection source, message volume, message characteristics, time periods and other variables.
Based on rule matches, email may be rejected, silently discarded, or deferred until a later time .
Return tailored messages to senders on disallowed networks.
Apply different limiting criteria at various times of the day.
Offers
It dares to commit as a fruitful e-mail solution to the users. It covers the whole nine yard of technical collateral to deliver the best solution to the IT world.
It provides an upper hand to your e-mail system by making it up and running in the shortest time frame.
It ensures to filter your mails as per the category of senders, importance level and urgency. This makes the conduct of your mail working smoother.
We have weaved the all-time-best technical practices to craft a technology that could cope with all your present and future needs.
This comprehensive innovation has curtailed the burden from your organization's IT community.
It monitors the mail traffic of your mail box.